Logs Only Package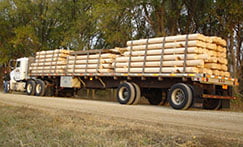 Log Package includes Pine logs ( or Timbers) needed for the construction of your home, butyl gasket material for between log rows, 10" and 12" spikes, oak dowel rods for making butt joints, and construction drawings. For homes with a loft, all log loft posts, beams and joists are included plus a log (timber) stairway. For homes with a porch, all log porch posts, headers and rafters are included.
---
Logs and Labor Package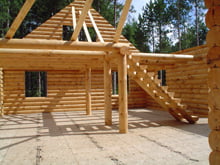 Same materials and components as above PLUS our own log construction crew will build the log portion of your log home. Our crews are experts in log construction – that is all they do. Many other contractors will have little or no experience with full log construction.
---
Weathertight Package with Labor (where available)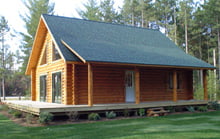 Includes logs and labor package plus materials listed below:
Subflooring System (basement cap)
Treated sill plate · Sill seal · 9 ½" I-joist floor joists 16" on center · 9 ½"
Micro-lam Beam · 9 ½" Rim Board · Jack Posts · Bridging · ¾"  T&G OSB sheeting ·
1 X12 Cedar Rim Joist Trim
Roof System
One story homes and attached garage roofs built with manufactured trusses 2' O.C.
With approx. 2' overhangs. Homes with lofts get 10/12 cathedral roof with 2X12
DF/L hand framed rafters 2' O.C. with 14" microlam main ridge beam with approx.
2' overhangs.  5/8" OSB sheeting · 15# Felt underlayment · 30 year fiberglass or asphalt shingles · Pine fly rafters, sidewall plate, facia backer, overhangs · 1X6
Pine gable plate · Pine soffit nailer · 1X8 Pine Carsiding for soffits · Ridge and Soffit vents · Drip Edge · 4' to 2' gable overhangs · Dormers framed with 2X6 ·
Log siding for dormers to match home profile
Window and Door Package
Kolbe & Kolbe  clad H-K insulated slide-by windows and patio doors with full Screens · Therma Tru Steel insulated entry doors pre-hung in 9 ¼" jambs · 2X10
Window and door bucks · Shims, caulk and drip cap · 1X6 Rough sawn Cedar exterior trim · Garage Doors with openers for attached garages.
Loft Package (if applicable)
2X6 T&G pine flooring to cover loft joists
Decks  (if applicable)
6X6 Treated posts · 2X8 Treated joists 16" O.C. · 2X8 Treated sill and double beam · Joist hangers · 5/4" X 6" Treated Radius edge decking
Porch Roofs (if applicable)
2X6 T&G Pine  for ceiling · 15# Felt underlayment · 30 year fiberglass or asphalt shingles · 1X6 R/S Cedar facia · Drip Edge